Our Services
Cancer
Clinical OncologyGeneral Surgery
Cancer is the generic name given to a cluster of related diseases. In a normal healthy body, human cells grow and divide as the body needs them. When cells become old or damaged, they die and new cells take their place. However, cancer relates to body cells dividing uncontrollably and spreading to neighbouring tissues. Many cancers form masses of tissues which we call tumour. However, there are certain types of cancer, such as Leukemia that do not form solid tumours.
According to a report jointly published by the Department of Health, Food and Health Bureau and the Hospital Authority there were over 30,000 new cases of cancer registered in 2017. The annual number of cancer cases is projected to increase to over 40,000 cases by 2030.
However due to the advancements across a number of treatment modality the survival rate of patients in also on the increase.
Cancer Staging System
Cancer is typically labelled in stages from I to IV with IV being the most severe. The staging describes the size of the cancer and how far it has spread, if at all. When you are diagnosed with cancer, your doctor will tell you what stage it is.
It's important to understanding your cancer stage for a number of reasons:
TREATMENT: It helps your doctor to figure out the best form of treatment based on precedence, if available. An early stage cancer may be treated by surgery, while advanced stage cancer may need chemotherapy.
OUTLOOK: Your speed of recovery will be largely dependent on how early the cancer is detected. The stage gives you an idea of possible outcomes.
RESEARCH: Hospitals and healthcare institutions around the world work with cancer databases that keep track treatments used, and how well they have worked.
Researchers as well as your doctor can use this body of knowledge to help you develop your treatment plan.
Most cancer that involve a turmoil are staged in five broad groups. Other kinds of cancer like cancer of the blood and brain cancer have their own staging system.
| | |
| --- | --- |
| Stage O | There is no cancer. Only the potential of abnormal cells of becoming cancerous cells. This is also called Carcinoma in situ. |
| Stage I | Cancer is call and only in one specific area. This is also called early stage cancer. |
| Stage II and III | The tumour is often larger and has grown to neighbouring tissue or lymph node. |
| Stage IV | The cancer has spread to other parts of the body and it is also called advanced or metastatic cancer. |
Cancer Categories
Cancer can spread to almost every organ in the body. The types of cancer are broadly organised into carcinoma, sarcoma, melanoma, lymphoma and leukaemia . Carciomas are the most commonly diagnosed type. They originate in the skin, lungs, breasts, pancreas and other organs and glands. Sarcoma are cancers that are found in bone, muscle, fat blood vessels, cartilage and other soft connective tissues in our bodies. Lymphomas are cancers of the lymphatic system. And melanomas are cancers of the cells that make up the pigment in our skin.
---
Types of Cancer
Cancer Treatments
Cancer treatment varies based on the type of cancer, stage, and survival rate differences. It is also influenced by factors such as the location, size, and quantity of tumours, so the treatment required for each patient is unique.
Some cancer patients may only require a single treatment method, but for most cancer patients, combining different treatment methods is quite common, such as surgery combined with chemotherapy, surgery combined with radiation therapy, and so on. In addition, cancer treatment can be divided into local treatment and systemic treatment. Local treatment targets the tumour area or specific body parts, while systemic therapy may affect the entire body.
| | |
| --- | --- |
| Surgery | The purpose of surgery is to remove all detected cancer cells. Most cancer patients require surgery, which is particularly effective for addressing tumours in a single location. Some cancer patients only need surgery as their treatment, but surgery is often combined with other therapies. |
| Chemotherapy | Chemotherapy, often called "chemo," refers to using chemical substances to treat various diseases. It has evolved into one of the treatment methods specifically for cancer. Chemotherapy involves introducing drugs into the patient's bloodstream, where they circulate and kill cancer cells. |
| Radiation Therapy | Radiation therapy, often called "radiotherapy," uses high-energy radiation to target and destroy cancer cells within a patient's body. It damages their chromosomes, preventing them from growing and causing their demise. |
| Targeted Therapy | Like chemotherapy, targeted therapy uses drugs to kill cancer cells within the patient's body. However, while chemotherapy targets cells that divide faster than normal cells, targeted drugs interfere with specific molecules involved in cancer cell growth and survival, known as "targets." |
| Immunotherapy | The body's immune system attacks foreign invaders, such as bacteria, to maintain health. Usually, cancer cells growing in the body should also be targets for the immune system, but this isn't always the case. Some cancer cells can release signals that allow them to hide from the immune system or even inhibit its functioning. Drugs known as "immune checkpoint inhibitors" can intercept these signals, making it easier for the immune system to identify and target cancer cells. |
| Hormone Therapy | Hormone therapy, or hormonal therapy, is used for certain malignant tumours that heavily depend on hormones for growth. By interfering with or blocking the patient's hormones, it can help slow down and inhibit the growth of cancer cells. |
| Bone Marrow Transplant | Bone marrow transplant, also known as stem cell transplant, is typically used for cancer patients with conditions such as leukaemia, lymphoma, multiple myeloma, and neuroblastoma. When cancer cells are present in the bone marrow, the first step is to eliminate all cancer cells. Then, healthy stem cells are transplanted to restore normal stem cells and blood cells. |
Date of Cancer in Hong Kong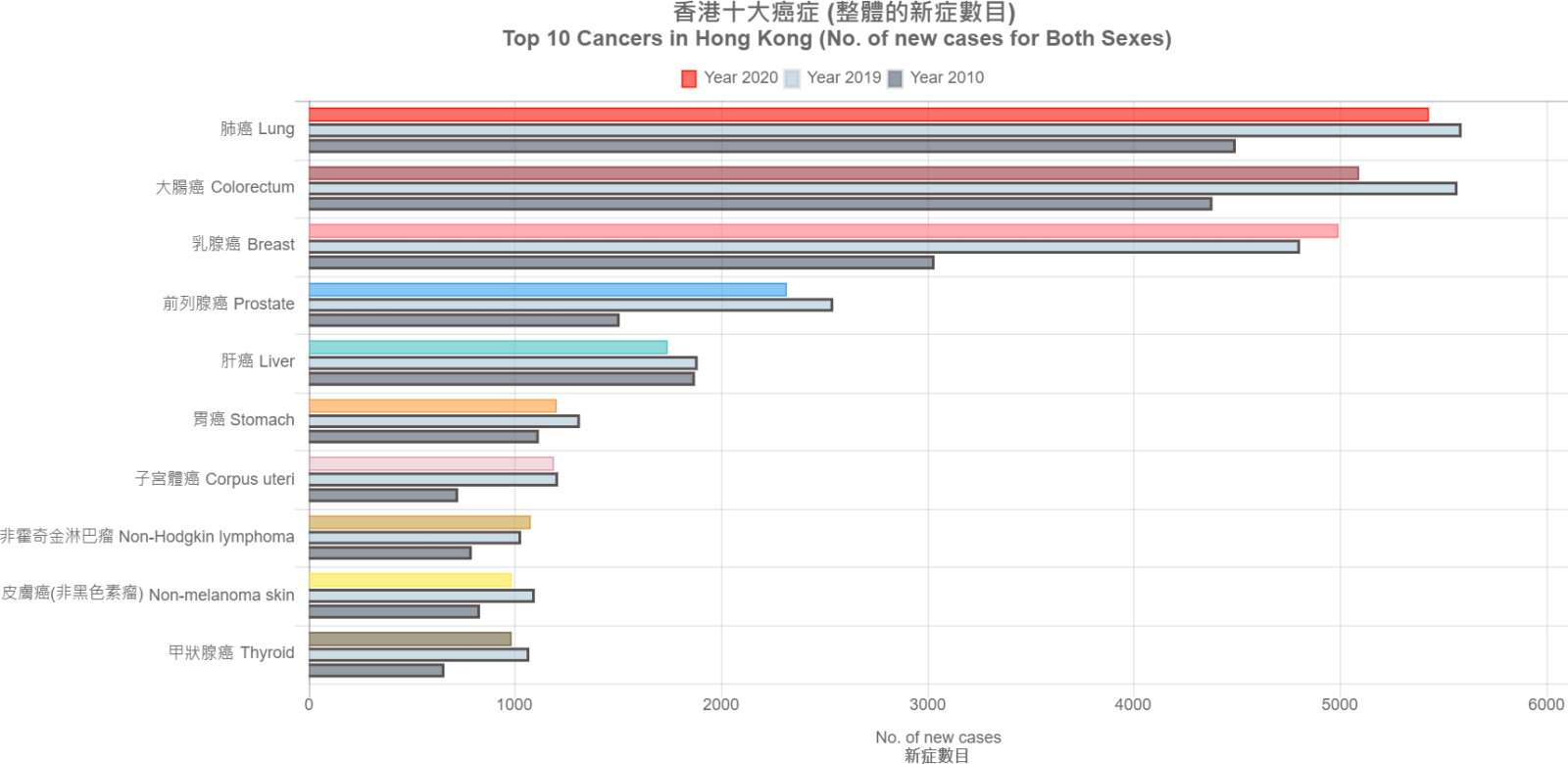 ---
Incidence in 2020 - Both Sexes
Rank
Site
No.
Rel. Freq.
Crude rate*
1
Lung
5,422
15.9%
72.5
2
Colorectum
5,087
14.9%
68.0
3
Breast
4,988
14.6%
66.7
4
Prostate
2,315
6.8%
67.8
5
Liver
1,735
5.1%
23.2
6
Stomach
1,197
3.5%
16.0
7
Corpus uteri
1,186
3.5%
29.2
8
Non-Hodgkin Iymphoma
1,068
3.1%
14.3
9
Non-melanoma skin
980
2.9%.
13.1
10
Thyroid
978
2.9%
13.1
All Sites


(Include other sites not listed above)

34,179
100%
456.9
Mortality in 2020 - Both Sexes
Rank
Site
No.
Rel. Freq.
Crude rate*
1
Lung
3,910
26.4%
52.3
2
Colorectum
2,287
15.4%
30.6
3
Liver
1,530
10.3%
20.5
4
Pancreas
813
5.5%
10.9
5
Breast
756
5.1%
10.1
6
Stomach
613
4.1%
8.2
7
Prostate
484
3.3%
14.2
8
Non-Hodgkin Iymphoma
397
2.7%
5.3
9
Leukemia
365
2.5%
4.9
10
Oesophagus
318
2.1%
4.3
All Sites


(Include other sites not listed above)

14,805
100.0%
197.9
01 / 00