HONG KONG – Manulife Hong Kong announced a partnership today with HEAL Medical, a leading multi-specialty medical centre, to provide Manulife's customers with access to top-tier medical services. This partnership underscores Manulife's commitment to advancing its health and protection business, offering customers a seamless experience from pre-insurance check-ups to specialist referrals, cashless arrangements, and medical treatments. It also highlights Manulife's strategic vision of expanding its medical provider network in Hong Kong and other cities within the Greater Bay Area (GBA), as well as in other parts of Mainland China.
HEAL Medical is a multi-specialty medical centre in Central, Hong Kong, committed to providing comprehensive medical services as well as premium, compassionate patient care through a team of healthcare professionals, including surgeons, medical doctors, and Chinese medicine practitioners. It also collaborates with the Chinese University of Hong Kong Medical Centre to serve patients with even more extensive medical service offerings. Conveniently located in the Central Building, HEAL Medical provides Manulife's customers, including those visiting from Mainland China, with convenient and private access to a diverse range of high-quality medical services and streamlined administrative processes, all in one centralized centre.
"We are delighted to partner with HEAL Medical, a healthcare provider focused on patient-centred care," said Carrie Tong, Chief Operations Officer at Manulife Hong Kong and Macau. "The alliance enables us to bolster our health and protection offerings, giving our customers convenient access to medical services provided by renowned medical doctors. HEAL Medical's dedication to delivering top-tier healthcare aligns perfectly with our commitment to providing an unrivalled, holistic customer journey."
HEAL Medical is a subsidiary of New Frontier Group, an integrated healthcare provider that delivers quality healthcare services to millions of people across Greater China. Through this partnership, HEAL Medical becomes the inaugural designated medical centre within Manulife's GBA Medical Hub. This marks a significant first step in the rollout of Manulife's network, which aims to encompass an array of medical service providers in Hong Kong, Macau and Shenzhen by 2023.
Ritchie Kwok, Chief Operating Officer at HEAL Medical, said: "We are delighted to announce our collaboration with Manulife Hong Kong, a renowned leader in the healthcare insurance industry. This collaboration offers patients access to medical services and pre-insurance medical examinations at our state-of-the-art facility in the Central Building, aiming to make our premium medical services accessible to patients in need. With the support of Manulife, we will ensure our patients receive uncompromising quality care while striving to enhance their overall service experience. We eagerly anticipate the positive outcomes of this fruitful collaboration, which will bring substantial benefits to our patients and Manulife's customers in Hong Kong and the broader Greater Bay Area."
Starting today, the following services by HEAL Medical will be available for Manulife's customers:
Pre-insurance medical examinations: These services will be conveniently accessible at the HEAL Medical centre in Central Building.

Day surgeries: Customers can undergo selected day surgeries at the Heal Medical centre without upfront payment by obtaining pre-approval through Manulife's Cashless Day Surgery eService.

Specialist referrals and inpatient arrangements: Manulife customers will be able to access a range of specialists in areas such as general surgery and clinical oncology through referral services offered by HEAL Medical.

Medical concierge service / In-clinic ambassador: In-clinic ambassadors will be stationed in the centre, providing dedicated concierge services to Manulife customers to ensure a superior customer experience.

Educational training and health talks: Sharing by medical doctors will be hosted regularly by HEAL Medical to educate and inform Manulife agents and their customers about various medical topics, advancements in healthcare, and tips for maintaining a healthy lifestyle.
With Manulife being the longest continuously operating life insurer in Hong Kong, this collaboration further highlights the company's ambition to meet the diverse healthcare needs of its customers. In June, Manulife Hong Kong announced the expansion of its Designated China Hospital Network from 1,700 to over 3,000 listed hospitals across Mainland China, making it the first1 life insurance company in Hong Kong to provide its customers with a network that covers all of China's Grade III public hospitals.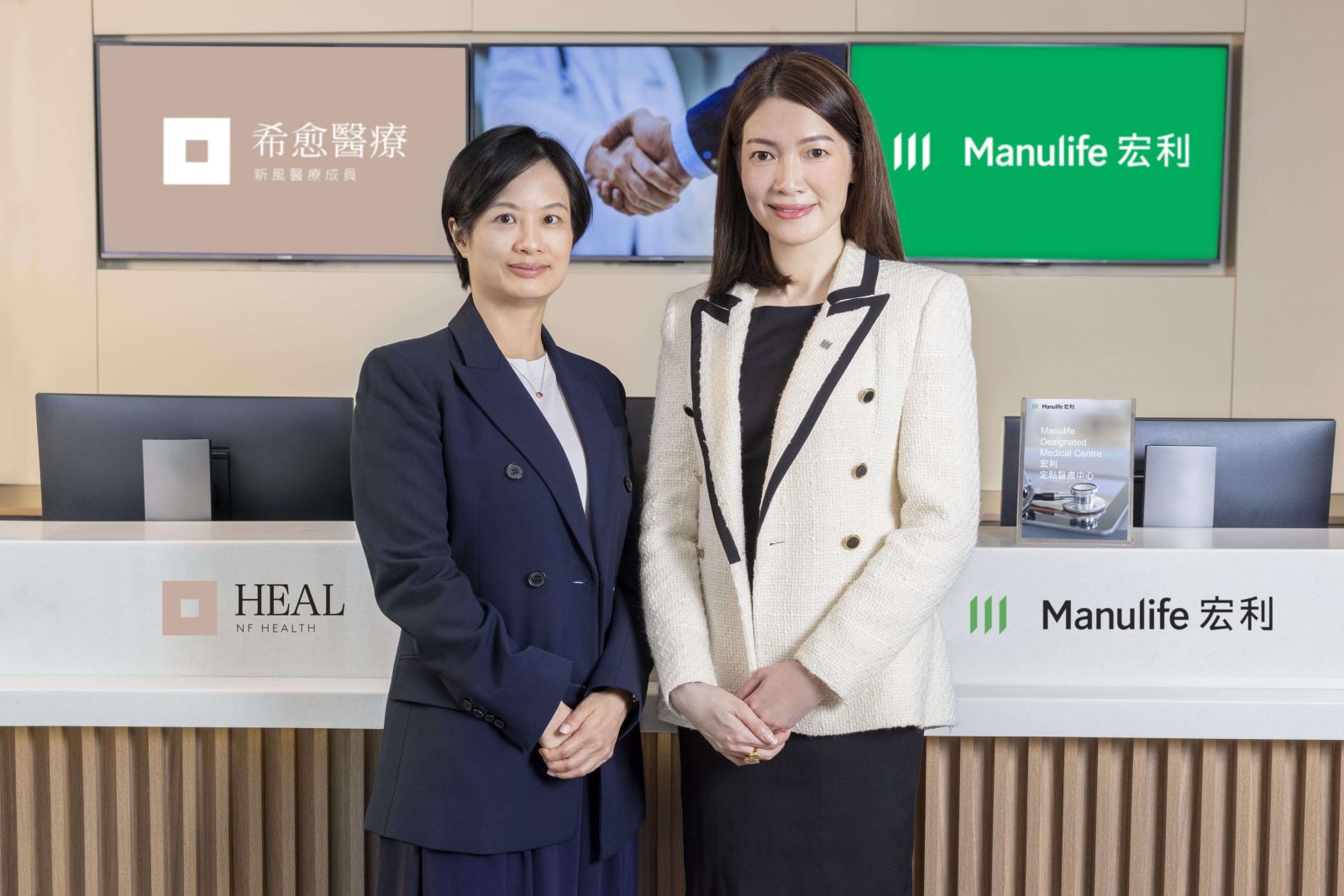 Manulife Hong Kong partners with HEAL Medical, a leading multi-specialty medical centre, to provide its customers with access to top-tier medical services.
From left: Ritchie Kwok, Chief Operating Officer, HEAL Medical, and Carrie Tong, Chief Operations Officer, Manulife Hong Kong and Macau

About Manulife Hong Kong
Manulife Hong Kong has been a trusted name for more than 125 years. Since our operations started in Asia in 1897, we have grown to become one of the top-tier providers of financial services, offering a diverse range of protection and wealth products and services to over 2.5 million customers in Hong Kong and Macau. We are committed to helping make decisions easier and lives better for our customers.
Manulife Hong Kong, through Manulife International Holdings Limited, owns Manulife (International) Limited, Manulife Investment Management (Hong Kong) Limited, and Manulife Provident Funds Trust Company Limited.
About Manulife
Manulife Financial Corporation is a leading international financial services provider, helping people make their decisions easier and lives better. With our global headquarters in Toronto, Canada, we provide financial advice and insurance, operating as Manulife across Canada, Asia, and Europe, and primarily as John Hancock in the United States. Through Manulife Investment Management, the global brand for our Global Wealth and Asset Management segment, we serve individuals, institutions, and retirement plan members worldwide. At the end of 2022, we had more than 40,000 employees, over 116,000 agents, and thousands of distribution partners, serving over 34 million customers. We trade as 'MFC' on the Toronto, New York, and the Philippine stock exchanges and under '945' in Hong Kong.
Not all offerings are available in all jurisdictions. For additional information, please visit manulife.com.
About HEAL Medical
HEAL Medical, a subsidiary of New Frontier Group, is known for its unwavering dedication to the well-being of its patients. It specializes in offering comprehensive clinical medical services that encompass clinical oncology, internal and surgical medicine, aesthetic and wellness enhancements, and advanced assisted reproductive technology. Located in the heart of Central, Hong Kong, HEAL Medical ensures convenience and accessibility for patients seeking for medical care. The team at HEAL Medical comprises highly skilled professionals who are committed to providing exceptional medical services and empathetic support to patients.
A notable affiliation of HEAL Medical is with United Family Healthcare (UFH), a prominent name in private healthcare throughout Mainland China. United Family Healthcare has an extensive network of 15 hospitals and multiple clinics in key cities across Mainland China. This collaboration enables HEAL Medical to have specialized medical profession, cutting-edge technology, pharmaceutical resources, and regulatory advantages that are specific to each region. The Group is to consistently deliver exceptional patient-centered care, extending this commitment to every patient.
For additional information, please visit: https://www.heal-medical.com/
---
1 Based on a comparison of the List of Designated Hospitals in Mainland China launched by Manulife and similar lists released by major life insurance companies in Hong Kong as of May 1, 2023.